He's the man with the voice that spins our wheels and he's heading to Australia.
With 15 Olympic Games, more than 40 Tour De France races and thousands of cycling events the world over under his belt, the most recognised cycling commentator of all time, Phil Liggett, took time out to chat with CT Connections' Scott Podmore about the Rio Olympic Games, Lance Armstrong, the once-sick-now-healthy state of cycling, as well as offering some travel tips as he prepares to head Down Under for the Jewel Residences Oceanway Ride on the Gold Coast and a VIP breakfast event at the Olsen Hotel Melbourne, courtesy of CT Connections and Etihad Airways.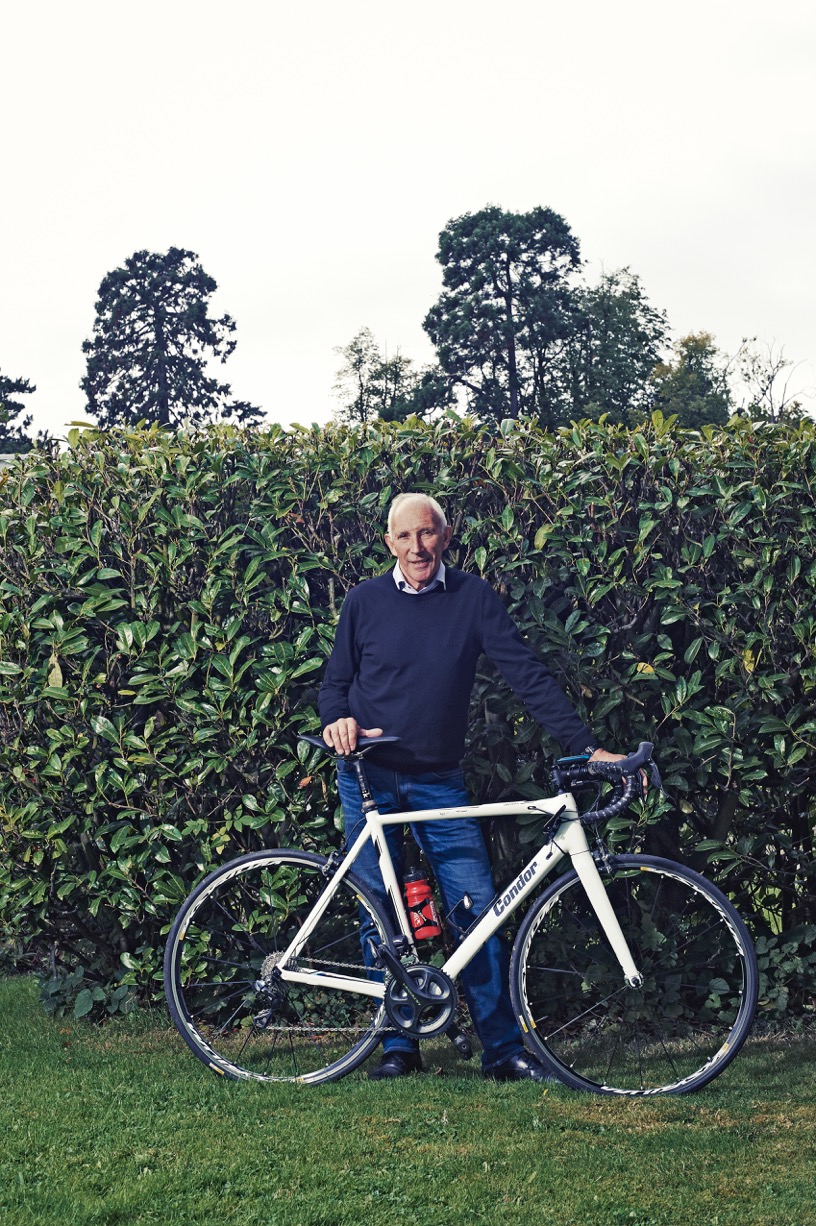 Q: Good evening from Australia and good morning to you in Rio de Janeiro, Phil, how has it been over there at the Olympics?
A: Hello Scott, competition was superb on the track, and the Aussies were lucky enough to bag a few medals. It was a good velodrome, brand new, and the racing was terrific.
Q: It's amazing to think cyclists keep breaking records and improving themselves. What are your thoughts about the evolution of our athletes?
A: My first Olympics was back in Moscow in 1980 and they built a tremendous indoor track and records fell to everyone who sat on a bicycle, it was incredibly quick. And they've built on that ever since, everyone's become a lot more streamlined, there's more money that's come into the sport and they're now buying and building the best equipment – they're just shaving seconds off now. For the 4000m team pursuit event, first of all the barrier was to break four minutes, then we finally sneaked inside with 3:59min, then we got four nations who did 3:59s and they started to improve it two or three seconds a jump. I can't see them beating that yet but I do expect the records to go to maybe a 3:50min, which, you know, I'd never thought I'd talk about for the 4000m.
Q: Is it fair to say you're a big fan of our Anna Meares?
A: Anna Meares is such a competitor. I like Anna because she's a fighter. Eight years ago in Beijing she saved the embarrassed faces of the whole Aussie team, men and women, by winning the only medal of the Games – and that on the back of a serious accident in Los Angeles. She's such a mentally hardened woman.  (During our chat Phil predicted maybe no luck in the sprint but tipped a medal in the Keirin. As it turned out Anna finished 10th overall in the sprint and bagged a bronze in the Keirin final!)
Q: Tell us about the conditions in Rio. Is it a bit of a media beat up or does it jolt the senses, in a disorganised kind of way?
A: There's a lot of media here, thousands upon thousands. We're in one of the three media villages and there are 3000 media here, and they built a restaurant that seats about 100 so you could imagine the carnage down at breakfast, lunch and dinner. After the first day, quite frankly, it was so bad that not too many people go there. It's a big learning curve for the people of Brazil. The people are lovely; you can't fault the people. But the facilities here are just about good enough to run the Olympic Games and the road races were really quite dangerous with their mountains: a beautiful course and should have been ideal, but they didn't think of safety and that was a mistake. We lost Richie Porte with a broken shoulder blade and broken ribs. We lost the big Italian Vincent Nibali when he looked like winning a gold medal and he had that horrible crash with Annemiek Van Vleuten of the Netherlands – well, I thought I was calling a dead woman because she didn't move. Fortunately, she regained consciousness and came out of hospital and made her way back to Holland. The plus signs? Well, we have Wifi on the bus every day so, hey, we can still talk to the world. Some things are good. The snack bars in the International Broadcast Centre are a disaster, the prices are high for buying rubbish. So I can't say I'm enjoying being here, but I'm enjoying saying I've been to Rio and been to the cycling at the Olympics.
Q: You are coming Down Under at the end of this month (August) between the wings of an Etihad Airways flight for the Jewel Residences Oceanway Ride and that's an event on the Gold Coast to raise funds for the lifesavers – I'm guessing you enjoy being a part of such events like that?
A: I do, and I like to encourage people to ride bikes. I came into cycling purely by riding for pleasure and it's become my life over the last, dare I say, 70 years. I'm looking forward to coming out – I haven't been to Surfers since my very first visit to Australia which was after the Seoul Olympic Games in 1988. The weather's more or less guaranteed, the ride hopefully will be flat because I haven't been on a bike since June but I do intend to ride and I'll get back on and get a couple of days in the saddle before I come over. It's a good cause and I really hope the guys and girls come out and support it because it's on Father's Day as well. Be what you are, having a good family time enjoying closed roads and riding your bike – you can't beat it, believe me.
Q: We're lucky enough to have you for a special breakfast event at the gorgeous Olsen Hotel here in Melbourne. It's being put on by CT Connections and the Jewel Residences Oceanway Ride. The weather will be a little different, I'll warn you, but are you looking forward to your trip down south to Melbourne?
A: Even in summer Melbourne can be like winter, so I'm not worried, I can live through an icy day in Melbourne. I'm all right with that. It's a strange time for me to come over, I'll be honest, because normally I start my movements around the October time and often through the Melbourne summer through January and February where I spend a lot of time in Melbourne. So I do know the city pretty well and actually I love the city. I was there for the Commonwealth Games as well and the world championships."
Q: And the VIP CT Connections breakfast?
A: I'm looking forward to the breakfast because I like meeting good people. I've done a lot of breakfasts in Australia over the years and I always find they've got great questions. Really friendly and happy-go-lucky – and that sums up why I work for Australian television. I think if I worked for a different network and different country I would have been pretty fed up working here in Rio de Janeiro but with the Aussies every day's a new day, every day's a good day, mate, so let's get on with it and let's have fun."
Q: How do you compare those smaller, more intimate guest speaking engagements like the breakfast event with the job like you've done for the Rio Games in which you're speaking in front of hundreds of millions of people, then you get in a little room for our special CT Connections breakfast and there are 30 or so VIPs there. Do you find it's more relaxing or a little more intense?
A: When you see your audience instead of just talking to them it can be intense and you get a feeling immediately from the audience. I did a couple of theatre shows in Sydney and Melbourne last October into November and I could tell when I walked out on stage … you can feel the audience – they're on your side and they bring the best out of you. And that's what's always happened without exception when I've spoken at dinners. The audience has been on my side. When I know that I can tell them some great stories about life as it is. I just like speaking to people, which what my whole life has been. But not always do I see them – I mean, the viewing figures here for Channel 7 are just unbelievable, we are talking millions, for the Olympics. We are over the moon with the most successful telecast from any Olympic Games in the history of TV. So I can't see this audience but at least I know they're all watching, so that's a bonus.
Q: So now that the dust has settled to a degree on all of cycling's issues, and I know every man and his dog has asked you about Lance Armstrong and what transpired there, but now the years have rolled on a bit how do you feel about the whole thing and is cycling moving in the right direction or is it forever burdened by what's happened?
A: You've always got to live it down. The Lance era was just that. I think he was harshly done to, yes he did cheat his way but he was still the best athlete in the world, don't make any mistake. Drugs don't turn a donkey into a thoroughbred. But the fact was he had to fool the public and he cheated everybody. Lance and I were never close but we travelled a lot together, you couldn't get close to Lance Armstrong. But I'd see him flying in his private jet when I did some gigs for him and I saw him raise a lot of money. I saw him mix with the cancer survivors and I saw him give those people hope for life and that was the other side of Armstrong. He was doing as he saw it where everybody else was doing, and being American he does it better than anyone else: that's their attitude. That's behind us now and I haven't seen Lance Armstrong since 2011 and that was in Toronto when I went for a bike ride with him and a lot of people to raise money for cancer. Never spoken to me since. As far as the sport has gone, they've worked very hard to clean their act up. And it's the other sports who are following suit. As some people will often say to me, if they were to choose a sport to put money into, they'd choose cycling because it has become the most transparent of all of the sports. We said all along, 'Check your other sports out': drugs are rife. We've been proven right – drugs are rife in sports, anywhere there's money and fame, they cheat. You've just got to stay one stop ahead. And I think cycling is good or better than most."
Q: Let's lighten it up and talk about travel experiences. You've obviously lived out of your suitcase for years, what have been some of the real highlights for you as far as travelling the world goes?
A: Gosh, I used to say the highlight was getting back to the airport knowing you're going home! I'd fly over 300,000km a year covering events and speaking at dinners and being nice to people, and them being nice back. The highlight really is that it's shown me the world. And I'm not just interested in cycling, of course, because I'm very deep into the animal kingdom – that's my real life passion – at the moment I'm patron of groups to save the rhinos from extinction in Africa and we work very hard. I meet people all over the world and Australia is playing a big part in this, by the way, in South Australia at the Monarto Wildlife Park near Murray Bridge. They're bringing rhinos in to breed them and send them on. I'm a bird watcher and a patron of Birdlife South Africa, and I'm a patron of Birdlife Australia as well, and I've given talks to help them raise money and save the birds. Over here in Rio I've been watching the frigate birds, the vultures, and sending messages back home. So I guess what cycling has done for me is give me a free ticket around the world, to see the world and meet the people. I always think you're travelling too much when you step off the bus in Cairo and tell a local person what number they need to get downtown – that means you've seen too much! But apart from that, I think it's an age thing, but packing my bag every week to go away on a long trip is hard now and it's hard on my wife, too, sometimes she comes but not very often. But when I'm there and I walk into the situation I just completely love being there. All my friends are all around the world, unfortunately, 20,000km from where I live and the only way to see them is to get on an aeroplane.
Q: You're obviously an experienced business traveller, so do you have any useful tips or rituals we should know about?
A: Personally I never get jetlagged and the reason I don't get jetlagged is I don't burn the candle. As soon as I sit down on that aeroplane at London Heathrow I put my watch forward to wherever I'm going to land and if it means I'm in the middle of the night I shut down – I'm now in bed mode. If it's in the middle of the day? I'll have a drink and my body just comes good straight away and I never have a problem. I never overeat and I never overindulge in alcohol. When you're flying first or business class it's too easy to avail yourself to alcohol – yes, years ago I was guilty of it: all this beautiful sparkling champagne? Free? I mean, of course. But nowadays I walk straight past, have a coffee, read all the papers and step on the aeroplane and I think that helps the body recover very quickly. And once I get there I make sure I stay awake for the whole of the day in the country I land in. If I land there at night, as you often do in Hawaii, I go straight to bed. If I come to Australia and land early in the morning, I stay up the whole day and I go to bed maybe at 9pm or 10pm at night and the jetlag doesn't happen: the body acclimatises straight away.
On behalf of CT Connections I thank you for your time and we look forward to seeing you Down Under in late August and early September for the VIP breakfast event put on by CT Connections and, of course, at the Jewel Residences Oceanway Ride. Thanks a lot for your time, Phil.
I'm looking forward to it, and it will be another nice meeting of great people I'm sure of that.
The inaugural Jewel Residences Oceanway Ride rolls from Surfers Paradise on Saturday September 3. The event is expected to attract hundreds of budding cyclists, families, first timers and more experienced riders to enjoy a bike ride along one of the world's most spectacular coastlines.
Save
Save
Save
Save
Save
Save
Save
Save
Save
Save