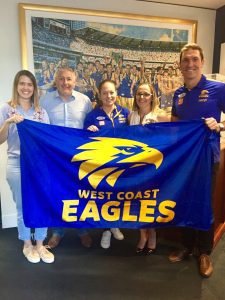 The Eagles have landed thanks to the CT Connections Perth team members who have ensured all travel arrangements are locked in place for more than 400 West Australians heading to Melbourne his week in readiness for the AFL Grand Final on Saturday.
And the CTC team is tipping a West Coast victory over Collingwood as Perth paints the town royal blue and gold in all the excitement leading up to the AFL's big day in September, according to CT Connections Regional Manager Georgina Anning.
"West Coast by 21 points," Georgina said. "And JK (top gun forward Josh Kennedy) will kick the first goal and there will be many miserable Collingwood supporters on Saturday night," she added with a laugh.
"It's a very busy week and we are getting there," she explained as the CT Connections team of 5 has worked around the clock to make sure smooth travel arrangements are in place for the Eagles coaching department, board of directors, players, family and staff. While a tight-knit footy team is getting the job done on the footy field, the CT Connections travel management team is also creating a seamless transition from coast to coast with all air, room and transfers organised behind the scenes.
"Prior to this season, West Coast had never partnered with a travel management company before, and it's been a thrill to work with this incredibly successful football club," Georgie said. "Throughout the season we have looked after all their corporate travel management and this week in particular has been a big one."
So, what's the vibe been like way out west this week?
"Everything is all about the West Coast Eagles," explained Georgina. "It's all over the radio stations, TV, newspapers and there's a quietly confident air about how they'll bring home the premiership cup."
It's a fitting culmination of all the hard work over the past 12 months. After the Eagles won the Preliminary Final on Saturday, the CT Connections team was based at the West Coast Eagles office the very next day starting preparations for all the club's travel arrangements.
"I guess for ourselves a highlight this year has been that high intensity atmosphere – it's great to be involved with the West Coast's success throughout the season and be able to say that behind the scenes we've played a part in getting them where they need to be," Georgina said.
"Travel is a crucial element in getting the team there on time, negotiating with Virgin on charters and team flights, making sure their families, wives and children are looked after too."
The CT Connections team has worked closely with Amanda Cox, West Coast's CFO, who happens to be the longest serving CFO in the AFL and the first female CFO in the AFL.
"Her knowledge is unbelievable," Georgina said. "She has been amazing to work with."
Organising the travel arrangements for such a large number with quick turnaround "had a couple of little bumps initially, to be perfectly honest", said Georgina. "Trying to find 200 hotel rooms in Grand Final week with no cancellation policy was always going to be a challenge on GF weekend, but Accor Hotels have been terrific to deal with and we are issuing itineraries as we speak."
The CT Connections dedicated AFL team in Perth including Georgina, Laura Lotter (partnership manager), David Bennett (operations team leader), and consultants Karen Judge and Justine Eardley.