MARK "Wally" Eustice was living the dream as a young man, fit, strong and popular while playing Australian football at the highest level with Essendon before stints at Richmond and Sydney.
But Mark was also living a nightmare, one he neither understood nor knew even existed deep inside. As part of Mental Health Week this week and given Mark is the brother of one of our own (Deb Eustice from Executive Edge Travel & Events), our editor Scott Podmore takes time to chat candidly with a man who has been through the dark tunnel of depression, drugs and suffered from bipolar disorder but who now, thankfully, has come out the other side and is enjoying life again.
A LITTLE numb after making the decision to finally consider rehab with his life in tatters from drug and alcohol abuse, Mark Eustice says a particular defining moment made his life flash before his eyes.
After a two-day bender that had him "changing colours and half dead", he had just opened a back gate to enter a rehabilitation clinic on a Sunday afternoon in Melbourne and more than 50 people visiting their loved ones stopped and stared.
"It was at that moment it really hit me – what the hell had I done with my life? I'd nearly killed myself and it was like a real sliding doors moment. It hit me all at once and I put my head in my hands … it was just terrible," Mark says.
So how did it all go so horribly wrong after such bright beginnings? After all, Mark Eustice was doing what every young Aussie lad dreamt of. Born and bred in a football mad suburb of Essendon, he made his way from playing for the Bombers in the little league through to footy's elite when he was invited to play at Essendon Football Club in the then VFL. The dashing footballer played a total of 137 games from 1980 to 1991 including stints with the Bombers, Richmond and Sydney.
But all was not as it seemed for this AFL star.
"It was in about 1983 when I was having a really poor season. I didn't feel right, my body was aching and hurting… it was like a bad flu. I couldn't train properly and wasn't playing well at all," Mark says. "It was a terrible year. I was warned by the chairman of selectors to pull my socks up or they'd be getting rid of me. I was only 20 years of age at the time. I just didn't know what was wrong, I had no idea what was happening to me."
That feeling he describes would only disappear temporarily as he regularly suffered from waves of feeling unwell. Mark says it led to him not wanting to talk to anyone.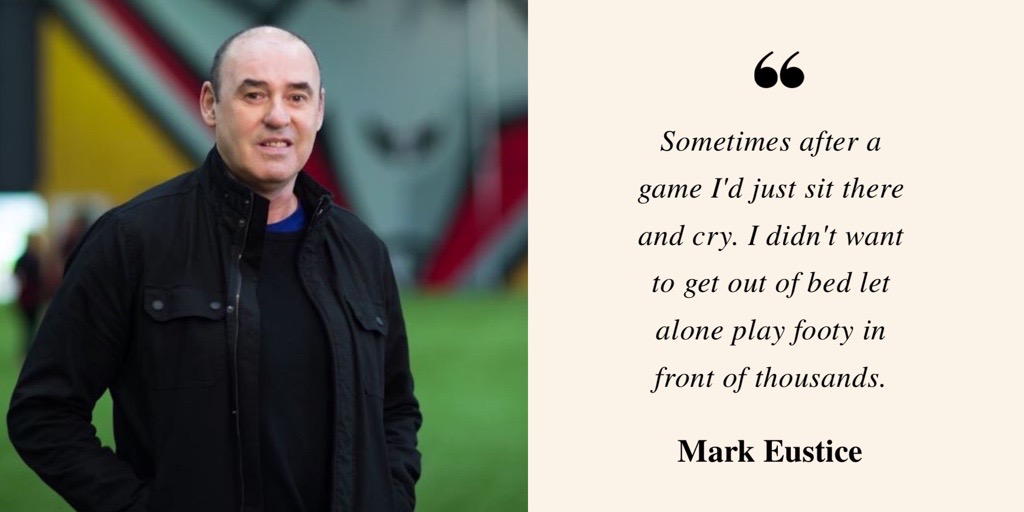 "I didn't want to get out of bed let alone play a game of footy in front of thousands," he says.
Before a game, he'd go into the toilets and not want to come back out. By the time a game was finished he walked off feeling "mentally exhausted" and obviously physically drained.
"Sometimes after the game I'd just sit there and cry," he recalls.
Given the 1980s wasn't an era for sympathetic ears in society, it also wasn't a time we were flush with resources to accommodate mental health issues as it is today with the likes of invaluable organisations like Sane Australia and Beyond Blue.
Back then, the response from others was for Mark to "stop feeling sorry" for himself.
"It's not like I had a broken arm, you know?" Mark points out. "Or a broken leg, something people could see. You couldn't see what was wrong with me. At the end of the day I didn't know what was going on myself.
"As the years went on my mates would even make a joke of it, 'What's going on, are you up or are you down?' or 'Are you going to play OK today?'. We'd even go out for a beer and they'd mock me by saying, 'Are you going to bring us down tonight or are we going to have some fun?'
"One of the things I think about now is how it affected my form back then. I'd play a bad game and get dropped, and now I realise it could well have been because of this illness, the depression."
As it hurt, and burned away at his physical, emotional and mental wellbeing, the darkness soon morphed into a drug and alcohol addiction and his life suddenly became a place of doom and gloom, dodgy dealings and no more footy.
"And I hit it hard. Basically I finished footy, as mentally it was killing me. I thought once I finish this I'll feel normal again as I wouldn't have the pressure that came with footy and performing well. But I quickly realised football had instilled discipline, and gave me focus by training hard and playing footy each week.
"Life after footy wasn't just the grog. I started taking cocaine. What happened then I was basically self-medicating with alcohol and cocaine so I wouldn't feel like crap; but of course the come-downs were worse than that. This went on for years. I was mixed up in the drug world and people involved in that. I was going nowhere, my investments were gone, money had run out – everything was crap.
"When you're in that world you don't really care. You don't worry about anything else but getting more cocaine, you don't pay bills, and that sort of thing. I got to the stage I was having vodka shots for breakfast and four lines of coke to get myself going – that's the stage I was at."
Thank goodness for friends with a heart. Former teammate Barry Mitchell took Mark to see a Carlton Football Club doctor at the time he had hit rock bottom. The doctor was on a board at a rehab facility in Ivanhoe.
"I'd been going pretty hard and realised I had to do something. So I saw Dr Ben and he said 'Mate, do you want to go to rehab?' And I said, 'Yes, I will, I've really had enough of this life.' I was worn out and had become hard, dealing with drug dealers … it became tiring more than anything. My life was just no good.
"Then I got to rehab. But before that it took about two or three weeks for them to get a place for me so I just kept drinking and doing drugs in that time. I couldn't stop. They had to raise about $28k to get me into the program and Mary and Greg Williams (another former teammate) were amazing. They went to my old clubs and raised money, that kind of thing." Enter a month of rehabilitation.
"So I did the 28 days and you're feeling really good, you get a great bed, doctors looking after you and all this therapy, but then all of a sudden you're out in the big bad world once it was finished," Mark says.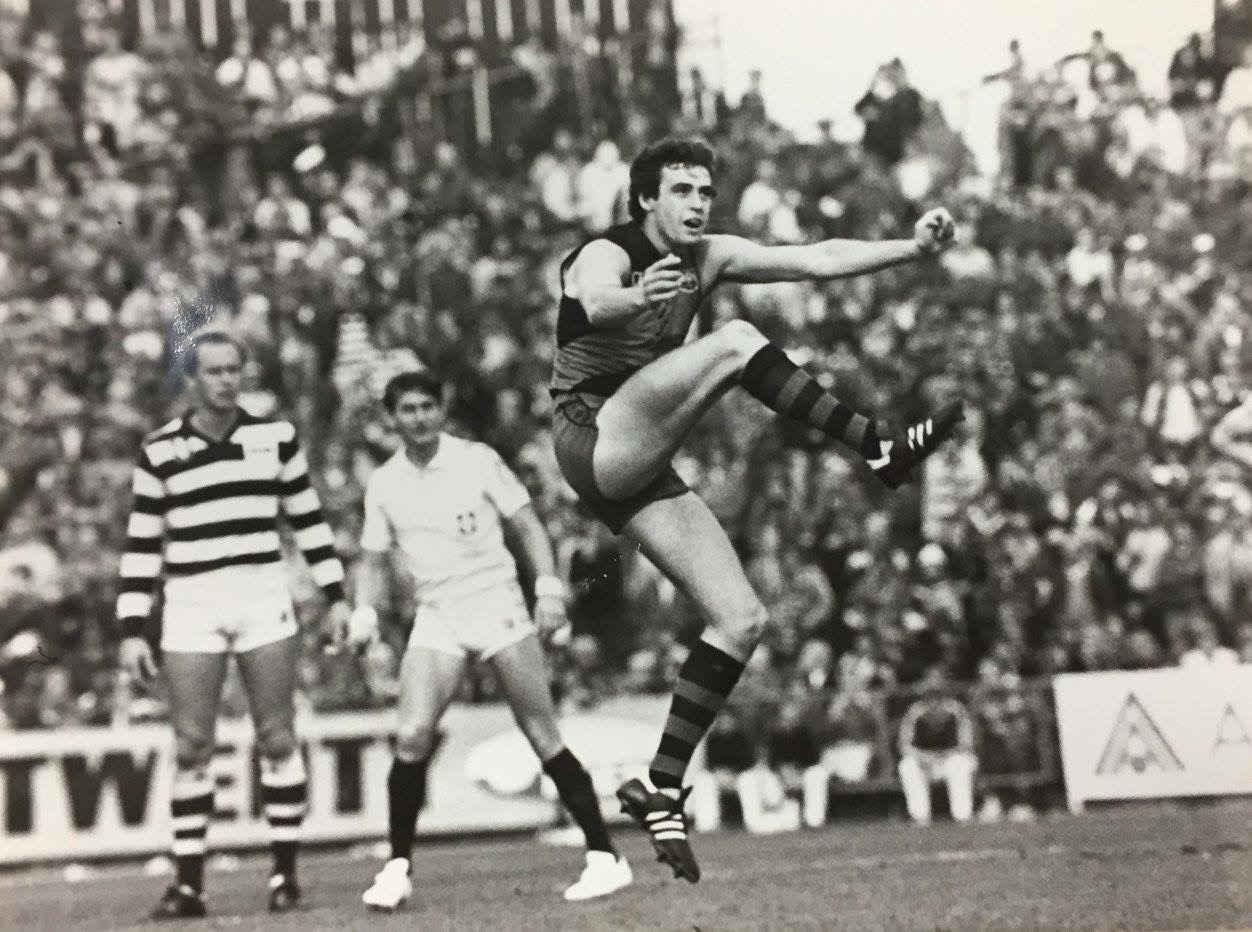 "I walked out of there and had no job, no car, only $100 in my pocket, and no relationships. I was living with my mum, got home there and put my bag down. I thought to myself I can go two ways: one, I can go down to the pub and start drinking and probably ring my drug dealer. Or the other way was I could fight it. And I chose to fight it.
Fighting it, however, wasn't easy, Mark explains.
"It actually got hairy after the rehab. After a while I started spiralling with depression as I didn't have drugs or alcohol to mask it. It was horrendous, I was terribly depressed. Then the AFL Players Association organised a psychiatrist for me and I was about 43. He told me I was suffering depression and I was diagnosed with bipolar disorder.
With that diagnosis and a clearer idea of what he had been suffering from all those years, Mark realised the timeframe equated to 25 years "for how long it was undiagnosed without any help".
"I went into a mental health hospital where I was for about 13 weeks and had such things as electric shock treatment, it was full on," he says. "And I came out of that hospital and I can tell you it didn't take me days or months, it took me years … I was unemployable and in my own little cocoon and it went on and on and I didn't work for eight years. Greg and Mary Williams had a friend who had a shop front and they rented it out, they turned it into a little studio apartment for me to live in. They (the Williams) were enormous for me.
"It's been 10 years since I've been clean and sober, but it's only really been this year I've felt really good."
Mark says it's important to remember depression is in the broader community and can affect anyone; it's not "just found in footy".
"I even did a talk at a retirement village a few weeks ago – there was an old lady in there who was depressed and an alcoholic. I've also talked to prisoners out of Port Philip jail," he says.
What advice does he have for anyone who's feeling blue or suffering chronic depression?
"Get help, it's there," he says.
"I'm not a doctor, but I can tell them what I've been through and offer life advice. I'm living proof you really can get through."
Life these days is good for Mark Eustice.
"As we speak I've bought myself an apartment, I've got a car and a license, I'm in a relationship with a lovely girl and I've got my own business doing some keynote speaking about what I've been through," he says.
For speaking engagements with Mark Eustice, ambassador for Sane Australia, contact him on 0404 880 606 or email markeustice6@gmail.com and find him on Facebook.
If you need someone to talk to, or you know of someone who needs help, visit two wonderful resources in Sane Australia www.sane.org or Beyond Blue www.beyondblue.org.au