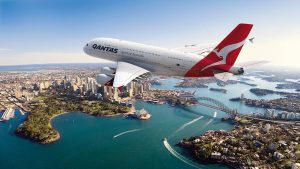 Since mid-2018 there has been an increasing amount of clamor in the industry regarding New Distribution Capability (NDC).
It is a travel industry-supported program launched by IATA for the development and market adoption of an enhanced capability of communications between airlines and travel agents.
Qantas has forged ahead as Australia's national carrier, leading the Asia Pacific region in unlocking the value of NDC through the creation of the Qantas Distribution Platform (QDP).
Today Qantas announced it is evolving its distribution model by modernising the way travel agents book fares and deliver customers personalised experiences by introducing the Qantas Channel. According to the airline, the new Qantas Channel agreement, coming into effect on 1 August 2019, ensures travel agents have access to the widest range of Qantas fares, products and information.
CT Connections was mentioned in the announcement, being chosen as one of Qantas' key agency partners to agree to participate in the Qantas Channel globally. We take pride in the fact we are amongst an exclusive group of carefully selected partners chosen by Qantas.
The Connections Group is made of market-leading brands – CT Connections, Totem Group, Executive Edge Travel, The Departure Lounge and Travel Advocate. Our executive team, headed by Gary Reichenberg, have closely watched the evolution of the QDP and like Qantas, we believe in embracing new technology, innovation and sharing with our community the benefits that can deliver. True to Connections Group brand values we constantly find meaningful value for our people, partners and customers.
As Qantas Chief Customer Officer Vanessa Hudson says: "The digital environment has changed the way we need to work with trade partners, and new technology paired with this new agreement will support us on the journey to delivering our vision to our mutual customers. We're excited to continue to innovate with our trade partners and share in the benefits of this new technology."
We take pride in the fact that we are amongst one of the few national independent travel management companies to be named by Qantas in an exclusive group of carefully selected partners.
According to Gary, Director of Connections Group. "This demonstrates the depth and strength of the Connections Group's relationship with the airline. At the same time, it shows we are viewed by Australia's national carrier as an influential, innovative and progressive travel company. For now, we commend Qantas for their dedication in leading the charge in this new frontier and we thank the airline for its confidence in our group".
For clients seeking more information on QDP, contact your dedicated Partnership Managers.